Website for Political Organization
Client: Veterans In Politics International – National veterans political organization which educates, organizes, and supports veterans and their families to select, support and intelligently vote for those candidates whom would help create a better world, to protect ourselves from our own government(s) in a culture of corruption, and to be the political voice for those in other groups who do not have one.
Project Overview: Client requests complete redesign of existing website with responsive formatting and easy content management of articles and events.
Solution: WordPress
Project Features:
Customized WordPress theme specifically for organizations content structure
Import of over 1,000 blog posts and news articles
Dynamic events calendar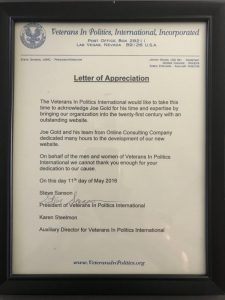 Veterans Letter of Appreciation: This project design, development and hosting was donated to Veterans In Politics International for their amazing dedication and support to all United States veterans and their families. As a result of our work on this project we were honored with a formal letter of appreciation at their annual ceremony in Las Vegas on May 11th, 2016.
VIEW WEBSITE
Before Redesign: