Technology Consulting Services for Law Firms
Technology Litigation Services Las Vegas
eDiscovery, Social Media, Digital Forensics & Trial Presentations.
Las Vegas Based Technology Litigation Services
OCCO is a technology litigation services support and consulting firm, specializing in the advanced procurement of discovery data, preparation, setup and execution of fully integrated evidence presentations. For over 25 years,​ OCCO has assisted hundreds of clients world-wide with the integration of documents, photographs, graphics, video, animation and other exhibits into a clear and convincing computer-based presentation. Utilizing only the most modern technology, our trial technicians are exceptionally experienced in high stakes civil litigation and easily assimilate into the trial team. From discovery to verdict to final appeal, OCCO provides customized technology based support services in Las Vegas.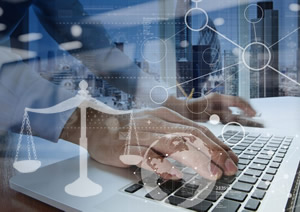 What We Do
At OCCO, our advisory consultants, project management and technical experts assist clients through all phases of the eDiscovery and litigation presentation process. At OCCO, our advisory consultants, project management and technical experts assist clients through all phases of the eDiscovery and litigation presentation process.
Specialized Technology Litigation Services in Las Vegas
At OCCO, we are experts in large or small scale case based social media data aggregation. In today's high-tech world information from a client, defendant, and/or their social network of friends and followers could be crucial to your case outcome. Using advanced software applications and powerful state of the art servers we can search, collect, and archive past and present social media for 1 or 10 million social media profiles and keywords related to your case. Unlike traditional methods of screen shots and printing, we can simultaneously index vita post data, GEO location information, comments, videos, and preserve all metadata in a legally defensible manner which follows evidence chain of custody.
In the social media world an enormous amount of data can be added, revised or removed in a matter of seconds. With a single call or text message to our direct e-discovery hotline, our experts who are on call 24 hours a day / 7 days a week, can to start data collection in a matter of minutes.
Trial Presentations & Trial Graphics
In these highly specialized fields, a specialized language, often a jargon, exists. When litigating a case, it is crucial to communicate the meaning behind the terminology to the judge and jury, especially because the true meaning behind the complex concepts is often misunderstood by the general public. The lawyer, in essence, is responsible for closing the communication gap between the experts in the field and the layman on the street. By using professional litigation graphics including video presentations, maps, illustrations, diagrams – the lawyer can educate the audience on complex terminology, providing a visual guide to understanding the often confusing spoken terminology.
OCCO can assist you with design of powerful, graphic illustrations, 3D animation, trial exhibits, video and other visual communications, so that the litigator can present evidence that is not only clear and informative but also interesting. Our trial presentations and trial graphic services serve as tools for the art of counseling and negotiation, and essentially give the litigator an arsenal of evidentiary support for the case.
Video, Photo & Audio Forensics
Analysis of digital media such as video, photos and audio is the new DNA for law enforcement and the next generation of evidence discovery and investigation for litigators. OCCO, specializes in multiple technology based litigation services including forensic analysis, video, photo and audio enhancement, and digital media authentication.
Additionally, we offer a variety of video editing and production services to build high-impact presentations and animations that can be essential to positive outcome before or at trial. These professional services include the production of documentary style videos to outline a timeline or event sequence, video based 3D animations for settlement or trial, and post production graphic overlays and diagrams for video segments to be used in such case of a grainy, dark security video.
As advocates for the evidence, OCCO's goal to provide high quality digital forensic services to our clients in order to help them understand, evaluate, and utilize forensic audio, video, and photographic evidence.
Electronic Data Discovery
Any data that is stored in an electronic form may be subject to production under common eDiscovery rules. This type of data has historically included email and office documents, but can also include photos, video, databases, and other file types. Also included in e-discovery is "raw data", which OCCO will review for hidden evidence.
The original file format is known as the "native" format. Litigators may review material from e-discovery in one of several formats: printed paper, "native file,", or a petrified, paper-like format, such as PDF files or TIFF images. Modern document review platforms accommodate the use of native files, and allow for them to be converted to TIFF and bates-stamped for use in court.
OCCO is an expert in advanced electronic data discovery processing in Las Vegas. Our services including identification, preservation, collection, processing, review and production. OCCO is committed to providing professional quality services using the latest technology to acquire, analyze, report and testify on the work we perform for you. All of our work product is strictly confidential and is never released to any other party without your consent.
We Don't Work 9-5! Our Litigation Services Available 24/7 to Las Vegas Attorneys
When it comes to litigation, the OCCO Team understands first hand the tight deadlines, complex schedules, and long hours that a litigation team endures. When it comes to e-discovery and preservation we understand that minutes can mean the missed or loss of valuable discovery evidence to your case. That's why we are available around the clock to act immediately or we are ready to dedicate any amount of  time hours to make sure you have what exactly what you need, when you need it.
GET THE FACTS.
Contact Us for No Risk Case Consultation
Utilizing only the most modern courtroom technology, our trial technicians are exceptionally experienced in high stakes civil litigation and easily assimilate into the trial team. Whether involved in a four month trial or a one day dispute resolution proceeding, we understand the demands of complex litigation and conform to the varying styles of the numerous litigators.
Do you have questions? If so, we encourage you to write or call us today.