Trial Animation
Court Room Animations and Visual Litigation Presentations
Powerful, Effective and Affordable Courtroom Animations
OCCO creates professional courtroom animations that will accurately convey your client's facts, including the significance of the injury, and need for recovery. Our litigation animations are typically used for audience education at trial or for the purposes of mediation, to maximize the value of your verdict or settlement. Even in cases where liability is not in dispute, an animation that explains mechanism of injury in visual format provides crucial assistance to the jury in understanding the party's respective positions on how or whether an injury could have occurred. This demonstrative technique has been discussed in post-trial interviewing of jurors, and is nearly always one of the first items mentioned as what persuaded them one particular direction.
Personal Injury
OCCO creates professional courtroom animations that will accurately convey your client's story, shows the significance of his or her injury, pain and suffering, and need for recovery. Our personal injury animations are typically used for trial or mediation to educate your audience, and maximize the value of your verdict or settlement. Regardless of whether liability is an issue, an animation that visually explains to the jury precisely how an injury occurred is a crucial part of a plaintiff's case presentation.
Product Liability and Defects
In most product liability cases, a powerful visual aid simplifies complex and technical issues, and provides context to expert testimony that is often highly technical, crucial to the determination of liability, but too complex for jurors to digest as intended. A well-constructed animation provides accurate representations of the alleged mechanism failure or defect, as well as demonstrates intended or appropriate operation and use. With our help, you can clearly explain how something was built versus how it was intended or should have been built, constructed, or operated. These types of animations can make or break cases.
Motor Vehicle Accident Recreation
OCCO's animated crash reconstructions put your audience at the scene of any vehicle collision and enable viewers to evaluate liability based on accurately reproductions utilizing scientific methodologies and in conjunction with expert witnesses. During our case consultation, we will review your objectives and advise the best strategy to accomplish the same in your case. Considering all relevant facts, such as crash dynamics and mechanism, avoidability, opposing party admissions, expert opinions related to biomechanics, accident reconstruction, and in some cases epidemiological statistics, we will create the animation that best accomplishes your client's goals and reflects the evidence as will be presented in your client's case-in-chief.
Medical Malpractice
Successful litigation of a medical malpractice case requires persuasively explaining that an injury did or did not occur due to a violation in the applicable standard of care. As a plaintiff, your client must demonstrate that their injury would not have occurred but for preventable medical error. Expert testimony, photographs, and other documentary evidence can only convey so much to your lay person jury. However, the often-complex issues in med mal lawsuits require effective visuals to illustrate and educate your audience on how the event happened and why it is medically negligent. An animation is one of the most effective solutions for simplifying your evidence, reinforcing your expert's testimony, and engaging the jury with precision and clarity.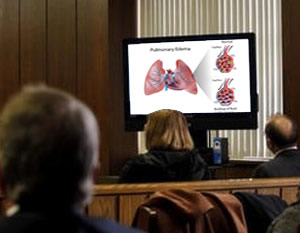 Key Features & Advantages
Demonstrate Liability
Explain Injuries
Increase Awarded Damages
Compel Jurors
Illustrate Complex Medical Procedures
Emphasize Product Defects
Recreate or Enhance Poor Video Footage
Stimulate Jury with Interactive Exhibits
Settle Complex Cases before Trial
Accuracy and Admissibility
Accuracy is the foundation of our work and which assures admissibility.
On-site Inspections
3D Laser Scanning
Topographical Mapping
Custom Graphics
Aerial Photography, Forensic Data Analysis
Mechanical Inspection Analysis
3D/360 Degree Imaging and Mapping
Forensic Animation
Motion Capture Suits
Advanced Video Enhancement
Nighttime Visibility
Medical Evaluation
OCCO'S TRIAL ANIMATION PROCESS
OCCO understands just how limited and valuable time is to an attorney, that is why we has streamlined case procedures and workflow to substantially lower the amount of meeting and correspondence time needed to accomplish your animation goals. Our case managers have over 20 years of experience working directly with litigators, law enforcement, and expert witnesses. Bottom line, we get it done right the first time without the burden of multiple costly revisions.
Case Study – Casino Trip and Fall
Incident Report: While exiting a heavy, windowless door of a Las Vegas casino, a senior woman tripped over a concealed hazard, falling and sustaining a head injury and broken shoulder.
Case Obstacle: Poor quality security video does not reveal the details of the hazards that caused her fall.
Animation Objective: Build animation to recreate security video from multiple POV's to demonstrate and show that the hazards inside and outside of the door caused her the woman to fall leading to her injuries.
Case Review and Consultation
At the start of this project, OCCO's case manager fully reviewed and analyzed all of the case documentation, photos, investigative and expert reports that were shared with us. In addition, we had multiple in-office consultations. After which, it was determined that optimization and enhancement of the security video footage would be key to presenting the dynamics of the plaintiff's fall.

Storyboarding
Photos taken by the law firms investigators, along with enhanced security video footage were then used to build 10 sketches outlining key scenes that would be used in the animation.
Animation Production
After approval was received of the storyboard, OCCO's expert animators began the process of creating the 3D environment of the casino and rigged scale model of the plaintiff. A 3D motion capture body suit was used to realistically recreate the plaintiff's movements and fall dynamics. This resulted in the production of several animation scenes.


Post Production
After the animation scenes were produced and finalized, the best camera points-of-view were chosen and two variations of the final animations for trial were edited. In video #1, the animation and security video were synced and displayed in split screen so that that accuracy of the animation could be verified and the animation would be accepted as evidence. For video #2, we added important measurements, and photos to help the jury better understand the important elements of the case.
WHY USE OCCO FOR TRIAL ANIMATIONS?
Affordable Cost
Don't get overcharged for professional courtroom animations. Using the latest animation software and technology, our team of expert animators can produce and render complex animations in much less time and cost than our competitors.
We offer several animation production options that help make animations feasible for almost any case and budget. We also regularly work on cases for individuals, institutions, and insurance companies. Even if you think the case value is too small to budget for animation, be sure to contact us for a consultation and quote. You will be surprised at how much money we can save you!
Experienced Animators
We have been producing movie studio quality animations for the litigation, news stations, documentaries and the medical industry for over 30 years. We use the latest animation software and techniques to illustrate the most accurate depictions of complex legal cases.
Experienced Case Managers
Your case will be handled by an experienced, professional visual litigation strategist who ensures the correct message and technical specifications are directed to the animation team, high-quality production standards are achieved and pressing deadlines are always met.
We Work Your Experts
We work directly with your investigators and expert witnesses to make sure our animations match their opinions and technical specifications so as to satisfy foundational issues and anticipated objections unique in your jurisdiction.
Production Speed
Need your animation exhibit quick? We will move fast to make sure you meet your discovery disclosure deadlines! Generally, we will be able to create a courtroom animation within one to four weeks, depending upon the complexity, number of point of views, and number of additional exhibits required. We also provide emergency and rush services.
LET US HELP YOU!
GET STARTED OR FIND OUT MORE ABOUT OUR COURT ROOM ANIMATIONS SERVICES
Our dedicated professional visual litigation and animation team applies the highest level of technical expertise, knowledge and advice to helping you convey the right message and increase or justify your jury ward or settlement amount.
Are you ready to get started or do you have some questions? If so, we encourage you to write or call us to setup a free consultation today.