Print Design
Effective print design that envokes emotion & highlights benefits with clear copy & simple layouts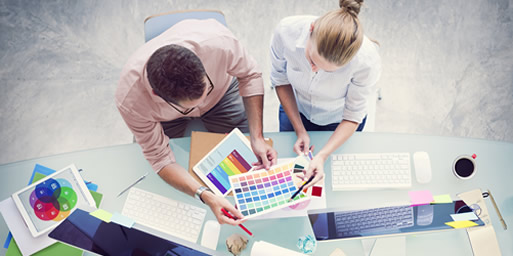 In most cases, you only get one chance to impress your potential customers & partners. After a business meeting, it is your print marketing materials that are the only tangible representation of your company that are left behind. OCCO's effective print designs allow you to stand out from the competition. When you are not around, make sure your print marketing materials can do the selling for you.
Emotion
Good print design consists of envoking the emotional of the viewer with powerful visualization. OCCO's Quality print design will stimulate human response in your audience and get them to think, learn, and feel about the topic.
Clear Copy
OCCO understands that copy-heavy print content must utilize single lines of copy and bullet points to encourage readers to read all the information presented. We make sure that large blocks of copy are easy to c digest and so they are never ignored.
Simple
OCCO's print design experts create simple layouts that convey your message in a simple and concise manner. We make sure that nothing will be missed and everything catches the viewer's eye. Good print design is clear, precise and is without cliutter.
highlight
Effective print design should not only look good but also call attention and focus to the benefits of your product or service. Ultimately, the only reason people are looking at your marketing material is to find out what the benefits are.
Take your website to the next level
Get a Free Project Evaluation today!
We apply the highest level of creativity, technical expertise and advice to make your online ventures a success. Our dedicated team of professionals will assist you with any project and help provide you with the know-how and experience to operate your online business.
Do you still have some questions? If so, we encourage you to write or call us anyway. Our job as online consultants is answering your questions, and helping you gain clarity around your website design and development.